by Vincent Daemon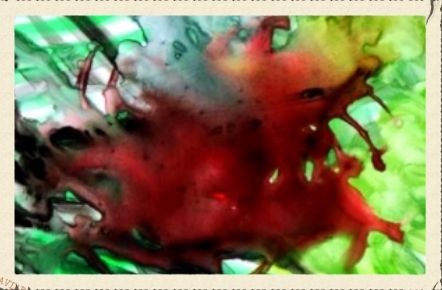 Chapter 4: Holiday In Cambodia
To Victor's tearful astonishment, he saw the most glorious sight. Daylight, just ahead, where the statues end, their forms not even recognizable as anything now, just smooth ruby and jade carvings of interwoven sections, all one terrible thing really that reached out for him with their gaunt moist arms, cooing his name in lurid tongues of obscene gibberish. Charlene's sweet voice wavered between chitterings and taunts, the whore laughing at him throughout the entirety of it all. Their arms reaching from every inconceivably designed statue, their eyes of red and green sinking inward on themselves to become the vacant black vortex holes like those of his dream, their spindly limbs the same.
Victor now pushed far beyond all of his body's rational physical limitations, the narcotic poison of the Black Poppy already reaching peak effect, numbing all pain, temporarily clouding all fear, all rationality.
It sounded like a billion legs were just behind him, that this thing and its jeweled marble daughters of ancient nympho-lunacy were right there, reaching out toward his shoulders to grab him and pull him back in, as if not wanting to be there alone, so they could keep him in the grip of these ruins and this most horrible place on what he was not even certain was the planet Earth anymore.
This felt like something both infernal and eternal.
He felt like a small child running up the basement stairs, fully certain the thing that waits below was right on his neck. Only he knew this unseen horror was real, as were the taunting and cruel statues. They whispered so loudly all the lies of this time and place, deceptive voices of insectoid hermaphroditic monstrosities exposing the truth that lay inside all, truths of the universe, blurting out the horrendous things he had always known about his consummate failure in this war, this life. Accepting, settling, going against his own personal and hard won code of ethics and honor. They were going to grab his spine and feed him to that fucking beast.
Victor saw a large open archway at the end of the tunnel, though it did not really register on his battered and tattered mind. He quad-timed it, before a small free fall and splash, he landed in the uncomfortable warm murk of a weed strewn marsh.
He also heard the monstrous sounding slosh into the marsh right behind him.
He did, however, spot a small U.S. rescue vessel just beyond the tall brown weeds of the marsh...and it appeared they had spotted him as well. He hollered in a throat wrenching hoarseness upon which he could taste his own blood, and splashed frantically, knowing that this thing was in the water with him, swearing he could feel it netting horrible limbs around his legs and pulling him under. The more he tried to wrestle from its grip, the more tangled he got, the more it seemed to wrap itself around his entire being...body and mind and soul...to drag him beneath the surface of these dark waters.
The silence came upon him again, exactly like when he watched Willy get blown into mush. Time froze, the world stopped. The legs wrapped tighter, his despondent thrashing now broken to a steadfast acceptance of fate.
Within moments the rescue vessel reached Victor, officers pulled him aboard, cutting away the tightly wrapped and binding roots and marsh weeds that nearly drowned him. Once cut out of the mess, Victor began to flail his arms in a panic, growing more unsettled and violent by the second as the officers tried to restrain him. He was not lashing out at them, but at his own flesh, tearing at his skin as though he were trying to remove it entirely from his body. Long and deep gouges bled out sickly-thick dark blood as he dug so deep as to tear back his own fingernails.
Victor was babbling inanely, shouting and even gibbering the entire time of mud kingdoms and insect gods, of horrid sexual nightmares and the statues that provide them. Ancient empires to the most perverse ideas; things that live inside of one, forever, deep within the mind, reading and raping every thought.
Eventually, he began to wear himself out, and was injected with a hefty dose of diazepam to help keep him down. The medical officer then looked into Victor's eyes and saw the severe constriction of his pupils. His shouting was easing to a mumble, this time about Charlene, his father, Willy, and something about a Vietnamese or Cambodian whore. They really couldn't tell. It was falling out of him in uncontrollable and hysterical sentences of raging gibberish, his own syntax garbled and falling away as the sedative took full effect. "Con-Rit Yekub Juk-Shabb!"
Victor was out, and the medical officers tended to his infected and barely recognizable hand. It looked as though it had been chewed upon, but that was chalked up to the severity of the infection. There was no question about it: Victor was going to lose the hand.
The med team were undressing Victor to give him a full once over. Upon removing his pants, they looked down in awe as the contents of his pockets spilled to the deck. Large black pods, obviously some kind of poppy-pod narcotic, were falling to the floor with loud ka-plats. They checked his eyes again and figured the severe constriction of his pupils explained it all. At that moment, Victor Marks Jr. was written off as nothing more than a war-torn junkie, a coward and a deserter.
Nothing more than another weak mind on the front lines, bad as the enemy itself; useless, the med team could be heard grumbling.
Victor's breathing was growing shallow and stifled, and he sounded like he was suffocating. Begrudgingly, they began to perform CPR, making heinously crude off comments about his shell-shocked and narcotic state of being.
As they emptied all of the Black Poppy pod-cubes from Victor's turned-out pockets and extracted several that had been stuck half-chewed in his throat, the medical officers began to notice that the odd pods were beginning to split in two, and that their contents were not filled with an ad infinitum of seeds, but had instead been filled with a myriad of very small and aggressive larval black centipedes, little creatures that began to viciously come after the crew.
What the medical officers did not see while their attentions were distracted with unjustified judgment toward their fallen man and confusion over the scattering, incessantly biting beast-pod hatchlings, was the subtle, graceful rippling just beneath the surface of Victor's gouged gritty flesh, and the endless black universal vortex of knowledge forming behind his eyes.