Saturday, March 5, 2011
CYRANO AND THE TWO PLUMES
by John Shirley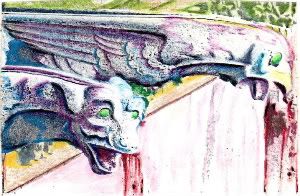 Part I

Archive of Stories
and Authors
Adam Bolivar'sWYRM'S BLOOD
Adam Bolivar'sTHE DEVIL CAME
TO BOSTON
Adam Bolivar'sTHE DREAM KEY
Adam Bolivar'sTHE WHITE CUP
Adam Bolivar'sTHE FOX AND THE THORN
who has lived in New Orleans and Berkeley,
and currently resides in Portland, Oregon
with his beloved wife and fluffy gray cat
Dahlia. Adam wears round, antique glasses
and has a fondness for hats. His greatest
inspirations include H.P. Lovecraft,
Jack tales and coffee.Keith Graham's
MIZUKI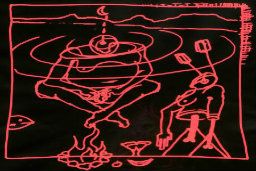 Keith Graham's
EVERYTHING BUT
THE OINK
Keith Graham's
FAREWELL TOUR
Keith Graham
is a computer programmer,
blues harp player, fellow beekeeper, and
speculative fiction writer. He currently
maintains 45 active websites. He has
published more than 50 stories over
the last six years in venues such as
others. Underground rock music
played an integral part in the early
days of cyberpunk, and The Freezine
of Fantasy and Science Fiction is
excited to have Keith onboard, and
grateful to showcase the premiere
of his passionate story of rock'n'roll
redemption.
John Claude Smith's
BLOOD ECHO SYMPHONIES
John Claude Smith's
NOT BREATHING
John Claude Smith writes weird fiction,
something between Horror and Magic
Realism, most of it psychologically driven.
He's had over 40 tales and over 1100 music
reviews, interviews, and profiles published.
He is currently shopping two novels and
a collection to agents and publishers, all
while starting the third novel. Gotta keep
on keepin' on! Looking forward to Rome
in the not too distant future, but for now,
just looking for the next short story to
be written.
David Agranoff's
A PLANET OF YOUR OWN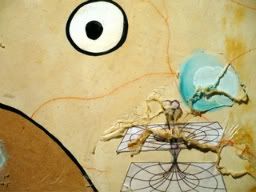 David Agranoff's
THE FALLEN GUARDIAN'S MANDATE
David Agranoff is the author of the
vegan and tireless environmentalist.
His contributions to the punk horror
scene and the planet in general have
already established him as a bright
new writer and activist to watch out
for. The Freezine of Fantasy and
Science Fiction welcomes him and
his defiant vision open-heartedly.
David is a busy man, usually at work
on several different novels or projects
at once. He is sure to leave his mark on
a world teetering over the edge of
ecological imbalance. David's
upcoming book is a Wuxia -Pan
(martial arts fantasy) horror
already out from Afterbirth Books.
Daniel José Older's
GRAVEYARD WALTZ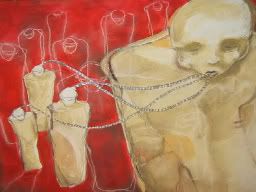 Daniel José Older's
THE COLLECTOR
Daniel José Older's spiritually driven,
urban storytelling takes root at the
crossroads of myth and history.
With sardonic, uplifting and often
hilarious prose, Older draws from
his work as an overnight 911 paramedic,
a teaching artist & an antiracist/antisexist
organizer to weave fast-moving, emotionally
engaging plots that speak whispers and
shouts about power and privilege in
modern day New York City. His work
has appeared in the Freezine of Fantasy
the collection Sunshine/Noir, and is
featured in Sheree Renee Thomas'
When he's not writing, teaching or
riding around in an ambulance,
Daniel can be found performing with
his Brooklyn-based soul quartet
ridiculous and disturbing world
of EMS can be found HERE.

most Popular Posts
by Gil James Bavel Mission Day 722 : 14:55 hours Ganymede Base mining station Second Shift I realized as I was freezing to death how...

by Gil James Bavel It was a fine day for sport, and it was on this day that I met up with Satan's Dog. I'd been seeing him around for years...

by Adam Bolivar - I - Strings I am Jack. Jack the Giant-Killer. Jack be nimble, Jack be quick. Jack and Jill went up the hill. Litt...

~ PROUDLY PRESENTS ~ THE DREAM KEY by Adam Bolivar © by adam bolivar + Click Images Below To Begin Reading + AS YOU WISH by john...

by Sean Manseau People said it was a freak storm, lightning that raked from earth to sky. People said a missile test from White Sands had...

by El Queso painting by shaun lawton I awakened to the sensation of blinding light and burning heat. "What the hell? Where am I...

by John Shirley Chapter the First: DemiLord of Paradine Jann a Grelle soared over the plains of Paradine Prime. The great flying beast ...

by Blag Dahlia CHAPTER 15: "DON'T LAUGH, YER MOTHER'S IN THE TRUNK" Rolling through the starless night, tape deck p...

by Blag Dahlia CHAPTER 24: ELEVEN YEARS DEAD Ten jags of powdered coffee later, I'm back on my flophouse bed with a mad dagger in...