Proudly Presents
WAITING FOR THE END
by Vincent Daemon
©
by vincent daemon
click pic to begin reading Chapter 1
THE WAY TO ALEXANDRIA
by John Shirley
©
by john shirley
THE DEVIL AND SIR FRANCIS DRAKE
by Adam Bolivar
©
by adam bolivar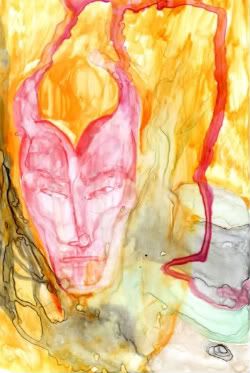 THE COLLECTOR
by Daniel José Older
©
by daniel josé older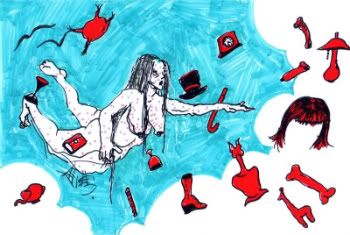 SUDDEN SACRIFICE
by El Queso
©
by el queso
The nanofleet have reported back that in their extensive and ongoing studies, they've found the letters of all races to have grown (and shed) many skins. We at the Freezine are dedicated to a clearly nebulous field of starstruck wonder, and beholden to a legacy of strange tales that range from noir to horror, guided by mystery, and pointed directly toward a future aimed at by science. One common element these speculative exercises share, is that they are all fantasy.

Branded under the term fiction, all the stories being archived in the Freezine represent a broad spectrum of styles, covering a wide variety of terrain in the post-genre landscape. Another common element these stories share, is they are the written products of different individual's uncensored expressions. The value lies in considering each author's unique perspective. The least we, the editors of the Freezine of Fantasy and Science Fiction can do, is allow these authors their own voice.

The Freezine stands vigilant at the fringes of what is considered to be free speech, facing outward to protect its writers from forces that might otherwise render them silent. The comments section have been opened for all to utilize, either openly under their web-ID, or anonymously, as the case may be.

The editors encourage efforts at taking the initiative to communicate, being painfully aware that the garden of evil grown from the soil of the schisms forged long ago by communication breakdowns remains the paramount problem facing us today. How to best tackle this beast? Please leave a comment, to say the least.

The MARCH 2010 issue would not exist in our dimension without the brave contributions from its featured writers. A huge shout out must ring loud and true to Vincent Daemon for submitting his apocalyptic novella WAITING FOR THE END, a story that he sent me to read whilst soliciting it to other publishers. I understood already that it had been rejected by a few for "crossing the line" and "pushing the envelope" past its acceptable limits; there came a moment when I realized
this
was exactly what I needed to send the Freezine to its next phase of mutation. By showing the world that we are not afraid to court controversy, Vince has helped my publication's endeavor to
level the playing field
, so to speak; the Freezine's priorities include the bypassing of the status-quo, not to mention the allowing of its author's unique and uncensored voices. Vincent's pained voice is quite recognizable here, and I am proud to have helped him unleashed it to a new audience.
The Freezine should be likened to a punk venue: the "front" of the venue is for all ages, or inclusive of those under the age of consent. Most stories have been, and will probably continue to be, hosted there. Although now, a brand new section has been constructed, in the "back": the Extreme Zine Zone, located at
http://extremezine.blogspot.com
.
This can be likened to the "alcohol" section of the venue, wherein you must present a valid ID showing your age of consent, to peruse the "goods" offered therein: stories of a quality that might offend the sensibilities of parents or minors will be hosted here, in the Extreme Zine Zone.
Thanks to the mysterious El Queso for having taken the liberty to write a quick, inspired description of one of my watercolors, a piece I called "Avia Inferna" that I posted on the John Shirley message board one day, earlier this year. Everyone liked Queso's impromptu flash fiction submission, so with his permission I went ahead and gave it the title "SUDDEN SACRIFICE", and published it on the Freezine's Flash Fiction Friday. I think it strikes an old-school chord of leaving readers with that feeling of having watched an enjoyable Twilight Zone episode, and I'm grateful to Queso for having taken the ten minutes it took to write it.
Much appreciation goes out to Daniel José Older for daring to return (along with the others) to this lonely blogzine in cyberspace. His story of urban spiritual warfare, THE COLLECTOR, resonates with the Freezine's themes and provides the reader with a tense and delightful excursion into the day of an EMT's harrowing encounter with a peculiar woman in her downtown, NYC apartment.
A nod of acknowledgment and a tip of the hat goes out to Adam Bolivar--another Freezine regular, who returns with his second contribution here, THE DEVIL AND SIR FRANCIS DRAKE. Mr. Bolivar brings a much-needed and thoroughly enjoyable atmosphere of antiquity to our Freezine, and for that we should remain eternally grateful to him. His prose also pushes the boundaries of our fanzine here, and expands them in yet another direction. Between his and our fellow writer's efforts, the Freezine's parameters become boundless. Anything and everything becomes possible.
Which leads me to the inimitable John Shirley, without whose contributions this litpunk endeavor in cyberspace would not have seen fruition. Thanks John for daring to return to this forum with your much appreciated short story THE WAY TO ALEXANDRIA, about Jesus when he was nine years old, travelling to Egypt with his family. Readers should take note that this story is but one chapter from a work in progress. It stands alone as a compelling historical fantasy that brings serious considerations to the age-old myth, achieving the notable feat of simultaneously stripping it of its pretensions and preserving its inherent mysticism. It is a well-researched tale, and in my eyes, qualifies as the best story the Freezine has published so far.
Thanks to my wife, Shasta, for contributing her amazing artwork. This enterprise would be dead in the dirt without you, my love.
This issue will remain posted throughout April for your reading and viewing pleasure. Please invite friends to follow this iconoclastic and free online publication. The Freezine intends to release a new issue every other month: so be prepared for a comeback, this May. The nanofleet has been sending me missives throughout the past few weeks, as they seem to have picked up on some new material they are currently processing "via the sub-branes", that is sure to astound and entertain our slowly growing legion of devotees. Help spread the word! This meme is starving and needs to feed. Only you can help it grow into a world-devouring entity.

freezinefantasysciencefiction@gmail.com

Submit your short story to be considered for a FRIDAY.
Submit longer works for daily serialization. Thank you.