~ PROUDLY PRESENTS ~





AS YOU WISH
by johnny strike
art by Richard Sala
© by johnny strike
THE PORCELAIN WOMAN
by Icy Sedgwick
© by icy sedgwick
THE THING AT THE
BOTTOM OF THE SHAFT
by Gil James Bavel
© by gil james bavel
The FREEZINE would like to take this time to thank Blogger for hosting us, and all four contributing authors who provided their fiction here online at zero cost to the reader, for taking a chance with us. If you like an author's story which appears on the Freezine, be sure to look them up on Amazon.com and order one of their books, or something. Also, be sure to tell a friend about the FREEZINE, just tell them to "Google the word FREEZINE" and that should lead them right to it. All stories and posts on the Freezine feature SHARE buttons beneath, so be sure to do your part and help spread the word. You may also click on FOLLOW (either via Blogger or Networked Blogs on Facebook) which shows your support for this online, literary endeavor.
The MAY 2011 ISSUE of the Freezine of Fantasy & Science Fiction features the third "Weird Jack Tale" by Adam Bolivar,
THE DREAM KEY
, serialized in daily intallments (like its predecessors
THE FOX IN THE THORN
and
THE WHITE CUP
) and now archived for the reading pleasure of all present and future visitors. These three stories now comprise the world's first Weird Jack Trilogy—brought to you for free—exlusively on this forum. Mr. Bolivar made his debut appearance on the Freezine in the
NOVEMBER 2009 issue
, with his anachronistic short story
THE TIME-EATER
. As of this current MAY 2011 issue, he leaps forth adroitly to the front ranks of our rogue crew of literary misfits, with five (count 'em) stories under his belt. Curiously enough, I've just returned from the Dreamlands myself, and the word is already out, that more Weird Jack Tales are being penned even as we sleep.
For our first stand-alone short story, the Freezine is proud to announce the return of Johnny Strike on Friday the 13th, with
AS YOU WISH
, a tale culled from his first collection,
A Loud Humming Sound Came From Above (published by Rudos and Rubes)
. AS YOU WISH is a story in loud humming sound, and also happens to be the first chapter from johnny strike's forthcoming novel
Curse of the Djinn
. If you don't know who Johnny Strike is—he wrote songs, played guitar, and sang for the first-generation San Francisco punk band CRIME in the late seventies and early eighties. The group released three singles. (
Strike's song "Hot Wire My Heart"
was later covered by the band Sonic Youth on their Sister album.)
Strike is the author of the cult novel
Ports of Hell
and the collection of short stories
A Loud Humming Sound Came From Above
. He has penned articles and conducted interviews for Headpress, and published short fiction in Ambit and the Freezine of Fantasy & Science Fiction.
Additionally, Strike has worked at various times as a counselor at a methadone clinic, a cab driver (Madonna was one of his fares), and a pet sitter. He lives in San Francisco's Chinatown with his wife Jane and their family of stray cats. His interests include cigars, cannabis, Masonic and occult rites, reading a variety of novel genres, and traveling in Morocco and Mexico.
For this issue's second stand-alone story, the Freezine is excited to announce a new contributor, London's own
Icy Sedgwick
, and is proud to showcase the debut of her story
THE PORCELAIN WOMAN
. Icy Sedgwick hails from the frozen north of England, but currently lives and works in London. She balances her writing with a full time job in office management, although she is about to begin a PhD in Film Studies in October. Icy has two e-books to her name,
The First Tale
and
Checkmate & Other Stories
, as well as stories in other anthologies. She can't actually pinpoint when she started writing, as she's been scribbling stories for as long as she can remember. From the first tales scrawled with wax crayons to longer work bashed out on her mother's old typewriter, Icy has since made the leap to weekly flash fictions, web-based serials and even a novel. The Freezine of Fantasy & Science Fiction is thrilled to feature her work, and looks forward to following her 21st-century career, which is on the verge of blasting off to sectors heretofore unexplored in the universe. Watch for Icy's Author Bio just added in the dropdown menu on the Freezine's margin.
THE THING AT THE BOTTOM OF THE SHAFT
, by Gil James Bavel, appropriately wraps up the MAY 2011 issue. This is Gil's third story published in the Freezine, and qualifies him to be upgraded to "Freezine Warrior" status. If you look over to the side margin in the "Archive of Stories + Bios", you'll see that Gil has moved up the ranks to join the likes of Vincent Daemon, Sean Manseau, Adam Bolivar, Johnny Strike, and John Shirley—Freezine Veterans, all. For this installment in our growing legacy, we have another homage to the one and only H.P. Lovecraft, and as such, concludes this month's issue appropriately, in the eyes of the Bloodhost—the fleet of nanobots surreptitiously inserted into my bloodstream and possessing me to put the Freezine out. This also marks the second piece of artwork handed in to our webzine by Mr. Bavel, and it will soon find its way to his gallery showcased in the
FREE ZINE ZONE
, our sister-site dedicated to archiving seperately all the artwork used for the Freezine.
Stay tuned until the next, JULY ISSUE, of the Freezine of Fantasy & Science Fiction, available the world over, free of charge, hosted by the globally assimilating internet and brought to you by the mysterious benefactors known as the Bloodhost. More surprises are in store, so be sure to bookmark this site and tell all your friends about it. See hyperlinks below for guidelines for submitting your own stories, and read a clarifying message from the editors. Thanks again, and see you in JULY.


FREEZINE SEEKS STORIES!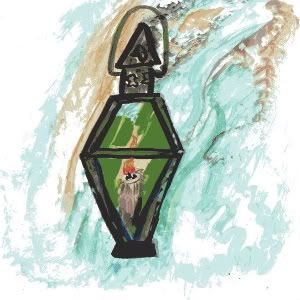 :message from the editors: