Proudly Presents
PLASTIC CHILDREN
by Nigel Strange
©
by nigel strange
click pic to begin reading Part 1
THE HOUSE IN THE PORT
by J.R. Torina
©
by j.r. torina
click pic to begin reading Part 1
THE GOLDEN THIRD EYE
by K.B. Updike, Jr.
©
by k.b. updike, jr.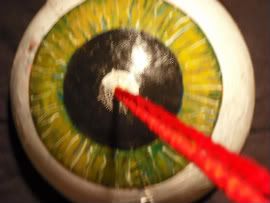 armed to the teeth with LIPSTICK
by Blag Dahlia
©
by blag dahlia
WE AT THE FREEZINE ARE DEDICATED TO SHOWCASING COOL STORIES. IF YOU ARE A PUBLISHED AUTHOR AND WISH TO SHOWCASE YOUR MATERIAL IN A FUTURE EDITION OF THE FREEZINE, PLEASE CONTACT THE EDITORS AT
FREEZINEFANTASYSCIENCEFICTION@GMAIL.COM
.
DO IT EVEN IF YOU AREN'T A PUBLISHED AUTHOR.
TO CATCH UP WITH WHAT THE FREEZINE IS ALL ABOUT, GO
HERE
.
Thank you to all the FOLLOWERS who dared to join up. Without you this endeavor would be futile.
Please remember to spread the word about this free online publication.
With your help, the editors and myself will be better armed to
multiply the meme of cutting edge speculative fiction
into a worn down world that seems to be on the verge of swallowing itself whole.
HELP US ALL OUT
and tell all your friends and fellow writers, dreamers, pirates, and poets about this thing. Together we can generate enough word-of-mouth to push this Zine to the next level.
Heartfelt Thanks go out to Nigel Strange, J.R. Torina, K.B. Updike Jr, and Blag Dahlia for submitting your prose. Without you we would never have been able to keep this ball rolling. The nanofleet is collating all your material to "linesource their metacreation with"--whatever that means...