~ PROUDLY PRESENTS ~


CYRANO AND THE TWO PLUMES
by John Shirley
© by john shirley
+ Click Images Below To Begin Reading +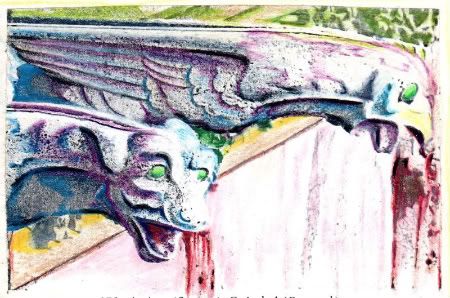 YOU GOT OLD, TOO BAD
by Sean Manseau
© by sean manseau
I CAN'T GET YOU OUT OF MY MIND
by Gil James Bavel
© by gil james bavel
CITIwakes
by Shaun Lawton
© by shaun lawton
LEVEL 5
by Vincent Daemon
© by vincent daemon
The nanofleet
have reported back recently that their phase transition is in "
a temporary state of plasmatic balance
." When pressed to explain this further, the only message received was "
the quantum harmonic oscillator must reach its equilibrium point
"—a missive I can only interpret as suggesting that the FREEZINE is in a state of "quantum flux" and must be stabilized during its phase transition. The nearest I can paraphrase is that these cryptic messages are intended to imply that our webzine here remains
in utero
, but I have yet to determine how long the gestation period will last, or if, indeed, our "unborn child" here will safely break through into the blinding light of a new dawn. In the words of the microhorde: "
Countering the cosmological constant is possible and may be triggered in a zero-point field. In building a literary analog to the spectral field itself, a temporary counterweight to quantum chaos may be achieved, which in turn could level the electromagnetic playing field for just enough time that a supersymmetrical cornerstone necessary to stabilize the entire operating system might be forged out of dark matter itself.
" I have been dwelling on the meaning behind these nano-missives for some time now, and can only conclude, for now, that the original mission embarked upon by our mysterious nanohost is progressing as intended.

The MARCH, 2011 iSsuE of the FREEZINE OF FANTASY AND SCIENCE FICTION would not have been possible without the daring contributions of its various midwives:
An immeasurable dose of thanks goes out to the inimitable John Shirley, whose vast experience in the realm of prose is rivaled by no other writers I have known. His excursion into "the history fantastic" titled CYRANO AND THE TWO PLUMES was originally printed in an obscure French publication, over two decades ago. The FREEZINE is grateful for this particular contribution, because it sets the stage well for the 8-part serialization to follow—Adam Bolivar's second Weird Jack tale, THE WHITE CUP—and because it comfortably straddles the divide between the various subgenres our webzine has already cemented into place.
Seven-hundred-and-seventy-seven "Thank Yous" go out to Adam Bolivar, who continues the trilogy begun last August with
THE FOX IN THE THORN
. The FREEZINE is pleased to have published, for the very first time anywhere and anywhen, THE WHITE CUP, serialized in 8 daily installments, now archived forevermore in the Random-Access Realm of the electrified world wide web, in a subdirectory of the blogger domain. Devoted readers take note: Mr. Bolivar returns again for the next (MAY, 2011) iSsuE of the FREEZINE, to bring us the third entry of his Weird Jack Tale saga, THE DREAM KEY. It will be serialized in 8 daily installments, analogous to its predecessor in this very issue.
Next up, our gratitude is directed towards Sean Manseau, yet another of the Freezine's frontline warriors. Mr. Manseau contributes his third story to our fleeting webzine, a charming little urban horror tale called YOU GOT OLD, TOO BAD. Sean's storytelling ability shines through in this alleghorical update of an age-old ritual—with a twist. Thanks for helping keep our cybernetic anthology here above the waterline, Sean.
Speaking of returning Freezine warriors, I would like to take this opportunity to welcome Gil James Bavel into the exclusive "3 Stories +" club, whose "third stripe" has been earned with the creepy and anxious tale I CAN'T GET YOU OUT OF MY MIND. In case you haven't noticed, the more stories that FREEZINE authors get under their belts—the higher up the
ARCHIVES OF STORIES AND BIOS
totem-pole they will rise (found in the right margin of the Freezine). Readers and writers take note: the nanofleet have devised a complex formula by which the Author Ranking is derived. I can only say that it involves more than just a straightforward "Story Count" factor: at least two other variables that affect one's placement on the
Bio Totem Pole
are a)
seniority within the Freezine itself
and b)
seniority outside the Freezine itself
. For this reason it will be challenging, to say the least, to rise up above John Shirley (for instance)—whose standing amid the ranks of Freezine contributors remains unassailable thus far. Thank you Gil for a suspenseful contribution that I find difficult to get out of my own mind.
As for my own story CITI
wakes
, the microhorde compelled me to provide my second story for the FREEZINE, in order that I maintain a certain level of equilibrium with the growing ranks of Freezine warriors. As Captain of this cybervessel, it is the least I can do to try and keep up with my motley crew. Incidentally, the story CITI
wakes
came into being from my decision to craft another example of "flash fiction". My short story here is the cornerstone of what I hope to build up into a longer narrative, eventually.
Which brings us to this issue's closing story, LEVEL 5, by Vincent Daemon. Vince vaults onto the "3 Stories +" stage of returning veterans with a tale that could easily be viewed as being part of his dystopian future universe we first visited in his post-apocalyptic splatterpunk novella
WAITING FOR THE END
—serialized in the FREEZINE last March, incidentally. It is important for readers to know the proper pronounciation of this latest story's title. Simultaneously alluding to the next stage of our Freezine's advancement, the dear reader is encouraged to say it out loud, like Max von Sydow does in the movie Flash Gordon, with exclamatory and emphatic gruffness—"
LEVEL FIVE
"!
Thus we delve ever deeper into the subrealm of our microhorde's grand design...
ONLY ON THE FREEZINE



OF FANTASY AND SCIENCE FICTION
TO JOIN THE RANKS OF LITERARY MISFITS
SUBMIT YOUR OWN STORIES to freezinefantasysciencefiction@gmail.com
for consideration in a future iSsuE
Help support your fellow genre writers

and keep this meme alive by sharing stories here with friends
Much gratefulness goes out to this issue's returning artists,
Shasta
(and
Shaun
) Lawton and
Jesse Stevens
. Without your technicolor sails, this cybership would be dead in the water. Readers: be sure to check out our sister-site, the
FREE ZINE ZONE
—detailing The Art Of The Freezine. Until the next MAY issue, fare well and stay hungry.