by Vincent Daemon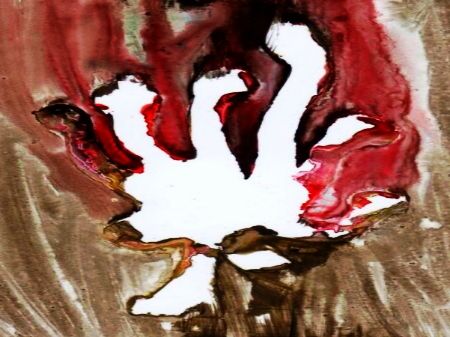 Chapter 2: Cadence
Painful tears began to well up in Victor's eyes as he sat there in the awful muck, the tears inadvertently rinsing some of the filth away and clearing his vision a bit. Anguish knotted up in his chest, a pre-heart attack feeling of stifling nausea again overtaking his physical being, but with not even bile to froth out.
Watching Willy...the incredibly bad timing of his attempt to release Willy's soul from the steaming bloody remnants of the shell it remained chained to in this life. In stasis, in the muck, it all caught up with him. He broke down fully, sobbing alone in the jungles of Vietnam, a place he had never wanted to be.
It was a good bit before Victor was finally able to pull himself together. Fidgeting out his canteen, he sucked down a couple of mouthfuls of the warm metallic water, pulled a smoke from his ration kit, lit it with his ragged Zippo, and inhaled deep. The heavy mud sluiced off him in wretched glops of ancient disturbed mud-stink, landing with thick splats. Visually surveying the area, he noticed the terrain was far different from anything he had yet encountered in Vietnam thus far, and that
really
said something.
The ground, the mud, it looked like something rotten and appeared to carry on endlessly. The trees were more sparsely spaced, seamed off. Immense, thick trunks stood upon a gnarled pedestal of long and knobby twisted roots, resembling bony and pale brown spider legs. Many of the trees were dead; dry-rot looking. The trees that were living, however, sprouted leaves like large green fans, blocking out virtually all direct sunlight, leaving this strange and isolated location hidden forever in eternal midday dusk.
Pale and beautiful flowers, the likes of which he'd not previously encountered, seemed to grow everywhere amid the dank muck. They produced a sickly sweet honeysuckle aroma that contrasted uniquely with that of this vile place in which they grew.
Unseen wonders of nature aside, Victor's intuition was telling him that something was not right. Figuring it was the
distress
, hunger, and exhaustion; for his own good
—
he ignored it. Finding a large and sturdy walking stick to help his mobility and check the mud before he stepped (this did seem to be prime quicksand or sinkhole territory, and he was already waist-deep in the shit), Victor set about trying to find a dry patch of some kind, if not a way out of this impossibly humid ring of hell altogether.
It came to him at once in a Satori like burst of something akin to memory. That word, "conree," he'd definitely heard it before. At what he felt was perhaps one of the most inappropriate memories to have at that particular moment; it was now just there, appearing of its own volition.
The fucking prostitute.
On a forgotten, intoxicated night of leave several weeks ago, he had broken down to the lurid and lewdly whispered whims of a comely little harbor whore. She had mumbled that word as she rode him, her tight sex clamping down like nothing he had ever felt. They were both in a viciously euphoric state from this very strong opium the whore had procured. In her narcotized sex-state of a seemingly altered reality, she mumbled the word repeatedly as he bucked up hard into her, the natural narcotic hindering his ability to achieve orgasm. He looked up at her tight skin, her small frame undulating and wrapping around him like some kind of delirious and horny centipede. She watched him oddly, intently, through half-closed eyes. Each time he bucked into her, bringing her just slightly out of her tantric nod, she uttered that now most haunting word. Afterwards, in her own post orgasmic stupor, another cryptic statement, whispered gently from her expert lips, serpentine tongue in his ear: "All too real, for you, soldier boy. Conree Yekub Jukk-Shabb."
Victor trudged begrudgingly along, carefully poking around with his walking stick. He was wary about coming across any of the more dangerous specimens of varying degrees of random wildlife while wandering the jungle. It was something to be expected, and very careful about. But this place seemed to be a dead zone. There were mosquitoes by the millions. Big ones. He could feel them sticking and sucking, a straight-pin sting of pain every time. These bastards were three times the size of the Lower Brisberg mosquitoes he was used to back home. Each one he slapped dead on his body popped like a little gooey blood bag. He then had to pull them out of his flesh like roses
'
thorns.
There was nothing around, in every direction, but large mosquitoes, immense trees both living and dead, and that god-awful shit stinking mud.
Every now and again Victor would notice an unnerving movement from the corners of his eyes, his peripherals. An oddly graceful rippling just beneath the surface of the mud would cause him to instinctively whip his head around to whichever side he had noticed it from, only to see the endless vast expanse of calm, motionless filthy deathscape.
As Victor poked ahead with the stick, it finally hit something buried in the mud. A large lump, it seemed to be squirming just below the coating of brown muck. Victor moved in a bit, not too close, and poked a little harder.
With the tip of the stick he began to wipe away the mud from the hump. A stench released upon the disruption of its vile stillness so foul that Victor was sure it had to be deadly. Each swab of the stick procured hundreds of live white larvae.
His empty stomach tried retching; only an afflicted dry heave came about. Nonetheless, Victor continued poking and pushing at this muddy carcass until finally he rolled it over. A blackened swarm of Brazil nut sized flies bellowed up from underneath, filling the silent swamp with a literal wall of buzzing sound. Stinky nuisance that they were, at least they didn't bite.
Victor was shocked by the revelation of just what this carrion was. Strangely, the beast had been slightly better preserved the deeper in the mud it had been. What looked up at him was the bloated, white eyed dead-pose snarl of a very large tiger. Finding a dead tiger in a deserted mud swamp like this was a bit odd, to be sure, though not quite as strange as the exposed and empty abdominal cavity of the poor feline. Something very large, strong, and mean must have done this; probably killed it in the jungle and dragged the corpse here to feast uninterrupted.
He searched the flat and undisturbed mud around him with a sharp eye, carefully, for some kind of tracks, drag marks, prints or surface disruption of any kind. His surveillance yielded naught.
He continued poking around inside the cavity, only to disturb more larvae, which had fallen around his side in a watermelon sized clump. He gave up then, deciding to just keep trudging toward some kind of safety or shelter. This tiger, however, was now a part of the menagerie of horrors branded upon his (most likely permanently) wracked psyche, forever to be lost in that godforsaken land.
Victor just wanted to go home, this was not where he belonged; never asked, never wanted to be here. This was not his war...he knew he could be of more use back home with Charlene, his love, and Vulture Breeze...and with trying to impose change through art and awareness and respect. This was the complete antithesis of all of that, the antithesis of his entire being.
"Respect? A funny word, respect. There is no respect in war, no awareness. Not until long after the fact and the damage has been done. Then suddenly . . . guilt? Embarrassment? Then suddenly, it's 'What do you need? Love your brothers and sisters' when it should have been that way all along. Goddammit." Victor realized he was speaking out loud, and kind of smirked to himself. "Damn...wish I had a pen."
He could feel his body tensing up, his limbs cramping. His dirty ass was sore and his sickly stomach was empty. Victor needed to rest, to eat. He was drained and traumatized in every possible war-torn way, very lonely, and very much afraid.
Again, from the corner of his other eye, the mud rippled.
"Goddammit," Victor growled again, turning his head quickly, and at the same time tripping over something beneath the mud. He thrust his arms out to break the fall, not even realizing he was no longer waist deep in that shit, landing with his bleeding and shot-up hand against a cool stone pillar.
He had not even noticed what he was approaching, as his eyes and mind were focused on finding the source of the strange movement beneath the mud, amongst a billion other garbled things. After he cussed out loud, he took full note of the structure and became stunned by what loomed before him.
Rising from the muck was a small yet steep set of ancient stone stairs, surrounded by an ornately carved archway slathered in varying green to brown hues of moss and mildew, lichen and fungus and vine.
In the overwhelming awe of his stunned silence, Victor distinctively heard something move in the mud behind him. Hardly a second passed before he stepped up onto the stairs and heard two more sloshing splashes from behind. Turning quick, he saw nothing still. He once more visually surveyed the vast expanse of gray mud, and felt like someone...something...was watching him...following him.
He now began to inspect the archway carefully. Inside it was long, carried far into black shadows, and was not quite like anything else he had ever witnessed before. Not in Life, not in National Geographic, not in his own jungle venturings.
Click here to continue reading