by Gil James Bavel
It was a fine day for sport, and it was on this day that I met up with Satan's Dog. I'd been seeing him around for years, actually—and this was the fourth time in a fortnight that we'd had a meeting of the ways—but, as happy as I was to see him, I was a bit bewildered as to why he would show up at a football match. Sheffield United were leading Manchester City by two goals.
Satan's Dog trotted up, panting slightly and wagging his tail. He was a normal Scot terrier, except for his ability to speak, the fiery red glow that surrounded him, which sometimes grew quite fierce when he became angry, and the odd supernatural power. He sat down next to me and shook his coat.
"Hey there, Joe," Satan's Dog said merrily. "How's it going?"
"Fine, fine. Odd seeing you here, old boy," I replied, pulling out my bag of crisps. "I had no idea you were a sportsman!"
Unfolding the half-empty bag, I pulled out a few crisps and threw him one which he deftly caught in his mouth with a short jump.
"Oh, yes, quite," Satan's Dog said, chewing, "I like a good game now and again. I even go out for the odd cricket match every so often," he said, finishing his crisp and gulping it down. "When Master lets me, of course." He sat up and wagged his tail, begging for another crisp.
I ate a few myself, and threw him another one, keeping my eyes on the match. Manchester City were now in possession of the ball and Sheffield United were having a hard time taking it.
"How is the Old Boy these days?" I asked, popping the last of the crisps into my mouth.
"Oh, he's all burned up about the Ethical Humanism thing again. Says belief in him has been waning since the Sixties."
I shoved the crumpled crisps packet in my jacket pocket, and picked up my glass of Watney's.
"You'd think he'd be quite pleased, what with the New Age movement and all the rekindled interest in the supernatural lately," I said, taking another drink. I wiped off the foam on my sleeve, and engaged in a group roar as City scored another goal. They now trailed by two to one.
"That's just it," the little Scot terrier said with a doggie frown. "They're all into this Pagan nonsense nowadays; druidism, getting back to nature and all that. There just isn't much devil-worship going on. Witchcraft is down. And even among the New Agers, there's little action. They barely even acknowledge the Horned God."
I could see Satan's Dog was getting pretty fired up about the topic, for his coat faintly glowed with hellfire. I wasn't worried; few people could see him anyway. He paused to scratch, and then turned back to watch the game.
I bent down with my cup to offer him a drink. "Care for a pint?" I asked, setting it down next to the dog.
He sniffed it and took a gulp, ducking his snout in it. "Ack!" he exclaimed, knocking the cup over with his nose. "Red Barrel?" Satan's Dog pawed at his mouth with both front paws and spit about, making quite a dramatic display over nothing, I thought. "I don't know how you can drink that stuff," he said, sticking his ample tongue out. "Tastes horrible." He laid down on the pitch and began to eat some grass.
I looked at him with my arms crossed. "Look, mate, you didn't have to go spilling the whole lot of it, though."
The terrier simply looked up at me in between chews and said, "Well, Joe, you didn't want to go drinking that after a dog had been in it, did you?"
There was a brief moment's pause, and then we both burst into spasms of uncontrollable laughter. After we calmed down, Satan's Dog sat up and said, "Well, that's what you get for drinking Red Barrel. Did you a favor, if you ask me." He was actually quite fond of beer, as most dogs are, but I suppose he considered himself a bit of an aficionado. The dog generally preferred a good stout, but then again, who doesn't?
I turned to my canine friend with a questioning eye. "What are your plans for after the match?" I pulled out a fiver. Care to swing 'round the pub?"
The terrier shook his head. "'Fraid not. Much as I'd like to, I'm invited to the palace for tea."
I threw up my hands. "You're having tea with Her Majesty again? That's gotta be the third time in a month, mate. I think the Queen is sweet on you."
Satan's Dog rolled his eyes and scratched again. "She just thinks I'm cute, that's all."
"Right," I said, giving him the old wink-wink, nudge-nudge.
He stood up on all fours, and prepared to leave, first walking over to a nearby wall and lifting a leg. "Tell you what, tho'," he said, doing his business, "You finish your game here, and I'll meet you at the pub for a couple of pints later."
I agreed. "All right. Oh, by the way, bring me one or two of those scones she always serves, will you? They're delicious." Satan's Dog gave me a nod, and trotted off to have his tea with the Queen. As it happened, she was the only living member of the Royal Family that could see the dog. She did enjoy his company, and he always had a standing invitation at Buckingham whenever he was up. Of course, he had no trouble getting past the beefeaters—hell, that dog would walk right off with as much of the crown jewels as he could carry in his mouth, and no one would be any the wiser.
I pulled out a Dunhill, lit up, and watched the rest of the match. It was indeed a fine afternoon's football, City ended up trouncing Sheffield United 5-2, which was rather expected, but a pleasant match nonetheless. I saw an old friend of mine on the way out, Stan Willingham, and he agreed to meet me at the pub later. I knew he would like Satan's Dog. I just hoped he'd be able to see him. He ought to be the type, I thought. An imaginative guy, Stan, not so totally absorbed in the fabric of reality that he couldn't see Satan's Dog hiding in amongst the folds. As they cleared the pitch, we had a couple of smokes and cracked bad jokes about the Prime Minister. Parting ways about six, we agreed to meet at the pub around eight.
As I opened the door to the house, I could smell that the wife had dinner on for six-thirty, and it was chops tonight.
"Hello, luv," I yelled into the kitchen, hanging up my cap and jacket.
"'Evening, dear," she replied, banging around pots and pans. "Your dinner will be on in a few."
"All right," I said, walking in. She had biscuits on the table, too, I could see, and gravy in a pan for the mashed potatoes. I gave her a big hug, and with my arms around her, planted her a wet kiss on the mouth. "Judith," I said, looking her straight in the eye, "You're an angel on Earth if ever there was one."
"Don't I know it," she replied, kissing me back and then pushing me off. "Now get out or I'll scald you," she said, grabbing a pan and waving it menacingly.
"All right, all right, I'm goin'," I said, scooting out of the kitchen at her command. As I grabbed the paper off the hall table, she called for me to have a look at the loo, that damn plumber hadn't been in to fix it yet.
"What, just before supper, luv?" I implored.
She just stuck her head around the corner into the hall and said, "Oh, go on, read your paper then."
And so I did.
After a fine meal and a look at the loo, which was still beyond my ken, I donned my hat and coat, and with a nod to the wife, was out the door to the pub. As it was just down the way, I dispensed with the car and hoofed it. I was there in a few minutes, and the sun was just setting over the horizon when I opened the door to Max's Green Taxi.
All the boys were there, and I was surprised to see Satan's Dog had already arrived. He had somehow finagled someone that could see him into buying him one, and was working on the harder-to-reach bottom of a pint as I approached him.
"Now there's something you don't see every day," I started, "A dog sitting on a barstool, drinking a beer."
The terrier simply looked up at me, licked his whiskers, and said, "Something you should see a lot more of, if you ask me." He paused for a second, and then added, "'Course, I wouldn't be talking if I were you, mate. You were the one what was quaffing a Watney's this afternoon."
I smiled and pulled out a fiver. "Quite right you are, mate. Max?" I said, turning to the portly owner at the bar, "I'll have a pint, please." Max nodded, and I looked on as he drew me a glass of beer, and passed him the fiver when he brought it over.
Max shot me an amused look and said, "Joe, this is your first one of the evening and you're already talking to y'self. Am I gonna hafta worry about you tonight?"
Max knew that Satan's Dog was more than a running joke we all brought up when someone discovered that his once-full beer had been drained. Funny how no one ever seemed to notice that glasses of Watney's Red Barrel always managed to remain unmolested to the end of their natural lifespans. And he wonders why I drink the stuff. That Dog's not as smart as he seems, considering he can talk. He is up on most blokes, though.
I just smiled at Max sheepishly and said, "No, Max, I think tonight I'll take it easy on you. Just a few." Max nodded again, and handed me the change from my fiver.
"Well, see that you do," he chided, smiling, "I'll not be pickin' you up off the floor again." At that, the lads gave a group laugh, and even Satan's Dog choked on his drink.
They were referring, of course, to my performance in last week's darts match, played as usual by Max's house rules. All players except the thrower must take a drink for every shot he hits.
When the thrower misses his shot, he has to drink twice. Makes for a pretty lousy darts game, but it sells a fair lot of drinks, and we all have a good time. I had almost forgotten it was darts night at Max's.
"Count me out for the first few, lads," I said, taking a quaff from my glass.
Satan's Dog sat up on his stool and looked at me. "Not playing tonight?"
"Nahh," I said, setting the glass down on the bar. "Can't afford it."
He cocked his head in curiosity in the way that only dogs can. "Surely the boys would spot you."
I shook my head. "That's not what I mean. Last week, I came home late. The wife waited up for me, and she was none too pleased, I can tell you that. Bored me a new blowhole, she did. My ears are still ringin'."
Satan's Dog finished his glass and hopped off the stool. "Ah, yes, wives. Master is always saying that they were among his finer creations."
"Hmm." I mused. "Were they his?"
"Well of course. Wives, not women."
"Yes, I suppose they must have been. Oh, I don't know, really, they're all right, once you—" I stopped and thought hard for a minute.
The little terrier looked at me quizzically from the floor and said, "Face it, Joe. You've got one foot in the grave."
I picked up my ale from the bar, and replied, "Right you are, sonny, right about that. One foot in the grave, and the other in Heaven's door." And with that, I tossed back what remained of my beer, set the glass down, toed the line, and as per Max's house rules, proceeded to throw three successive bullseyes. The boys all groaned and started drinking.
Satan's Dog said, "That's all the luck you'll get from me tonight. I gotta take a leak." And trotted out the door.

Stan waltzed in well after nine, spotting me right away. He walked over and raised a hand, pulling out his wallet for a beer.
"'Lo there, Joe. Sorry, I'm late, got held up on the home front. Mind if I sit down?" he asked, preparing to sit down on the very stool occupied by Satan's Dog, who, to my dismay, he obviously couldn't see.
"Sure, Stannie," I said, rising, "but let's grab a table." I led us over to an empty spot near the bar, away from the activity of the darts match. Stan pulled a chair out, and we had a seat as Satan's Dog jumped up onto the third chair.
Max raised his head and called out from the bar, "What'll it be, Stannie?"
"A Guinness for me, please, Max." Stan fished a fiver out from his wallet and put it out on the table. I knew as soon as Max brought the glass that Stan's evening was off to a good start, for my terrier friend eyed his stout greedily and licked his chops in anticipation.
"Oh, stop it," I said, chiding Satan's Dog while Max brought Stan's change.
Stan looked at me indignantly. "Bugger off, mate, I haven't even had one yet!" he said.
"No, not you," I replied with a sigh.
Max smiled and said in Stan's ear, "At least he's not playing any more darts tonight."
Stan laughed, smiled at Max, and took an initial sip, the foam still heading. "Ahh, nothing like the first taste of a beer in the evening, ayy, Joe?"
"You got that right, brother," said the Scot terrier to Stan's left. I simply raised my glass in a silent toast that was more to conceal my smile than anything.
Stan got up from his chair and gave a tug on his shirt. "Cor', not been here five minutes, and I've already got to visit the loo."
Satan's Dog eyed Stan's glass again, and remarked, "Pity."
Stan scooted his chair under the table and said, "Be back." With that, the Scot jumped right up on the table and was soon drinking right out of the poor man's glass. I knew there was nothing for it, but I shot my friend a disapproving look all the same.
"What?" queried the dog with a hurt look, pulling his snout up out of the tall glass. "That's what a man gets for leaving a fine Guinness stout unattended like this," he explained, returning to the beer. I laughed, taking a drink of my own newly replenished beverage.
Soon, Stan returned from the loo, and Satan's Dog jumped back down to the empty chair. It didn't take Stan long, of course, to see that most of his glass was gone since he'd left.
"I say, mate, that's a dirty stunt you pulled," he said, holding his pillaged glass. "And while I was evacuating me bladder, too." Stan shook his head, and the terrier licked his whiskers.
I smiled. "It weren't me, mate. I've got a perfectly good Red Barrel goin' here."
Stan frowned. "If you can call a Watney's perfectly good. Perfectly good waste of money, if you ask me." Stan punctuated his remark by taking a swig of what was left of his stout.
Satan's Dog nodded. "Man's got taste." He stated quite matter-of-factly. I couldn't help but laugh.
Stan looked at me, and held up his glass. "Well, then, Joe, if it weren't you, who was it what filched my beer right out of the glass, here in front of God and everybody?"
Without missing a beat, I said, "Why, it was Satan's Dog, of course, Stannie." As soon as my words left my lips, everyone burst out laughing, even Max—or rather, especially Max, who had been keeping a keen eye on us for just such an occurrence. Stan flushed, smiled, and then stood up finally to accept the rousing chorus of applause that bombarded him from the room. As far as he was concerned, he'd been set up and royally had. Those few of us that could see Satan's Dog knew better, of course, but weren't about to say anything. I just clapped and eyed my friend with a smile.
The dog jumped down off of the chair and looked at me. "Just as a dog is man's best friend, a dog's best friend is a good stout beer. And that, mate, is all she wrote." With that, Satan's Dog headed for the door, no doubt to make use of some convenient fire hydrant. In the meantime, Max brought over a fresh refill for Stan.
Max took a bow and resumed his duties at the bar.
After a time, things returned to normal—or, at least, as normal as they ever get at Max's Green Taxi—and by now both Stan and the Scot terrier were getting a pretty serious drunk on. Not at all unusual for either of them, but I could sense an odd combination coming on. Stan was slowly becoming able to see Satan's Dog.
I first knew when Stan began doing double-takes in the dog's general direction. At one point in the evening, Stan looked at me, then at his glass, then at Satan's Dog, then back at me, and finally back at his glass. A look of bewilderment crossed his face.
"I keep lookin' at this chair over here, Joe," he said, honestly unaware of whether it was the beer or his eyes that were playing tricks on him, "and I keep seein' this weird, uh—" He shook his head for a second. "Well, uh, glow. I keep seein' this glow and it's just on the chair, not anywhere elsh—but I've had a few, if you know what I mean."
Stan just sat there, looking right at my friend the Scot terrier, and him looking right back. I, for one, was pretty confused. I mean, people could usually either see Satan's Dog, or they couldn't.
Now, it appeared, that in light of his drunken state, Stan's rusty imagination was getting a little much-needed exercise, which allowed him to perceive the glowing hound sitting next to him.
Finally, after about half an hour of Stan looking around with paranoia, he leaned over.
"Look, 'ol buddy. We been mates a long time. So level with me." Stan looked around once more and whispered, "Is there a flaming dog sitting right there?"
I looked around suspiciously, first left, then right, and when I was sure that no one else was looking, I looked Stan straight in the eye and said, "Stannie, meet Satan's Dog."
Stan groggily turned his gaze from my face to the chair at which the dog was seated. He then nearly jumped out of his chair. Stan was definitely seeing him, now. Fully.
Satan's Dog stood up, leaning one front paw on the table, and offered the other to Stan.
"Shake?" he said.
Stan took the paw before he caught the dog's joke, then chuckled half in disbelief that he was chuckling at a joke told by a dog. The Scot shook his hand zealously, saying, "Pleased to make your acquaintance, sir. And might I add that I do admire your taste in beer."
Stan was so astonished and drunk that he somehow strangely believed what he was seeing and hearing. "Uh, yes, quite." Stan replied. He put one hand to his head, and with the other pushed his sixth or seventh pint of Guinness away.
"Wait just one bloody minute," he said, with a sudden clarity of thought. "You can't be serious."
He ended up pointing a finger at Satan's Dog drunkenly.
"I'm totally Sirius." The dog shot back, wagging his tail and licking Stan's face in a most undignified manner. Somehow, Stan must have seen the humor in it, for he looked at me and then abruptly fell off his chair, howling with laughter. Satan's Dog sat back down in his chair, thought better of it, and bounded up onto the table to spontaneously finish off the rest of Stan's glass by tipping it over and lapping up the spillage. When Stan had composed himself enough to rise back up to table level, he took one look at the spectacle, and fell back down on the floor in a new fit of laughter. He laughed so hard it brought tears to his eyes.
And that's how my friend Stan met Satan's Dog.
The terrier looked down at Stan rolling on the floor, and returned to his seat. "I think I like this bloke," he said, licking his whiskers.
After Stan had regained a semblance of normality, he sat up and said to the dog, "You have got to be one of the smartest people I've ever met, for a dog."
The Scot terrier nodded and said, "Likewise, I'm sure. Look, Joe, why don't you pay your bill and let's get out of here. I have some friends I want you to meet."
And so, with that, we paid our bill, waved goodbye to Max, and left the Green Taxi for destinations unknown.
We'd follow that dog to the gates of Hell if there was a laugh in it for us.
~The End~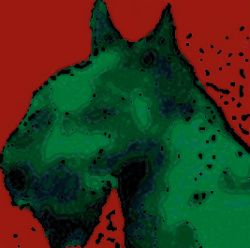 Return Next Friday
April 20
for
MIZUKI
by Keith Graham
only on
the FREEZINE of
Fantasy and Science
Fiction